QR codes
(quick read 2 dimensional bar codes)

Remember: Every one of our reports has a QR code on it for quick sharing with Realtors or Contractors See how it works here
See how we use this technology in our reports.
Find Software for your phone or PDA

More information on QR codes




Most modern phones have QR codes decoders pre-installed, if you need one, get a QR reader for your phone here.

Some of my samples, and another tip:

Scan this to schedule an inspection from your phone
all electronic registrations get a $30 discount!




Scan this to send a email referral to clients
you can edit this email before you send

Our Home Inspections Facebook Page
tons of homeowner tips and links
I have lots other QR codes also stored on my phone, my contact info, great contractors, even a referral list for other home inspectors.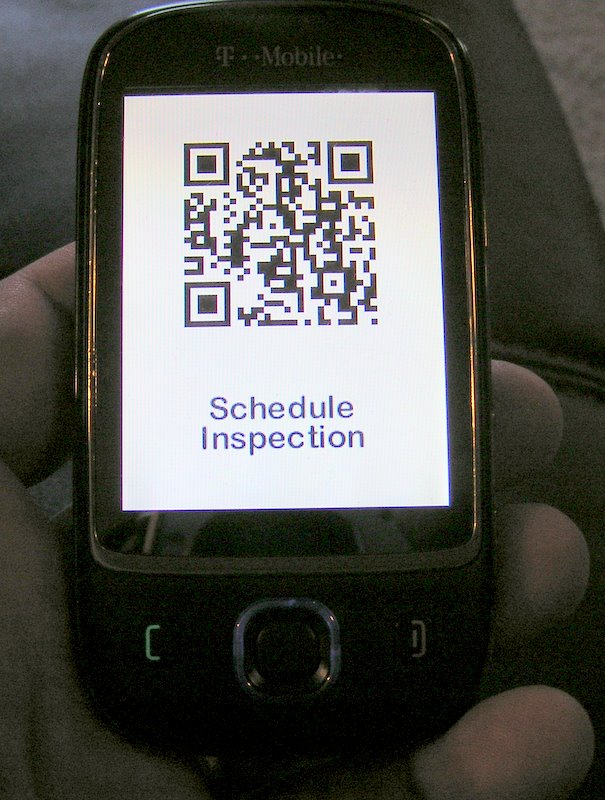 If you are a Realtor, you might have a QR code for your website, listings you have or the code for a great home inspector! (I can send it to you too!)
Another tip, the more complicated the link, the more complex the QR-code is. Look at these 2 samples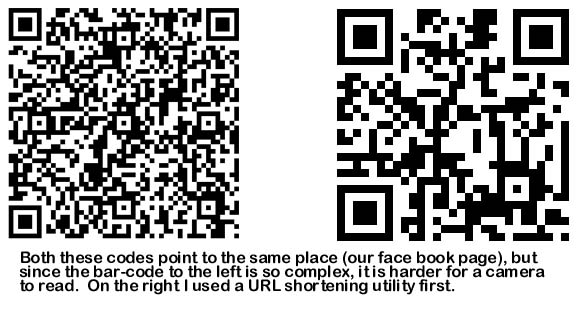 They both work, but you have to be closer to the one on the left.
I converted
http://www.facebook.com/pages/Home-Inspections-of-Puget-Sound-Seattle-Tacoma-Everett-areas/268876830685
into
http://on.fb.me/fGyiF
This turned my FB url from 107 charters to only 21 There are a variety of websites that can shorten your long links, making simpler barcodes (or making long links easier to fit on Twitter). You automatically will be redirected to the longer URL. It's that easy!
Here are a 2 examples of link shortening services:
And a site dedicated to Realtors that want to incorporate these codes is here:
http://vyoo.it/products/list.php
If you want to see an example of these codes in action see this video:
http://www.youtube.com/watch?v=GOgyC8liCfg
If you have any questions about these, give me a call and I am happy to share tips with you too.
Watch this video to learn more about using QR codes.
Some Background From Wikipedia
QR codes are used in both commercial tracking applications and convenience-oriented applications aimed at mobile phone users. QR codes can be used to display text to the user, to add a vCard contact to the user's device, to open a URI or to compose an email or text message. Users can also generate and print their own QR codes for others to scan and use by visiting one of several free QR code generating sites
QR codes storing addresses and URLs may appear in magazines, on signs, buses, business cards, or on just about any object about which users might need information. Users with a camera phone equipped with the correct reader application can scan the image of the QR Code to display text, contact information, connect to a wireless network, or open a web page in the phone's browser.

Google's mobile Android operating system supports the use of QR codes by natively including the barcode scanner (ZXing) on some models, and the browser supports URI redirection, which allows QR Codes to send metadata to existing applications on the device. Nokia's Symbian operating system is also provided with a barcode scanner, which is able to read QR codes, while mbarcode is a QR code reader for the Maemo operating system. In the Apple iOS, a QR code reader is not natively included, but over 50 free Apps are available with reader and metadata browser URI redirection capability.
If you find this information useful, don't keep us a secret!
List us on any of your favorite networking / bookmarking sites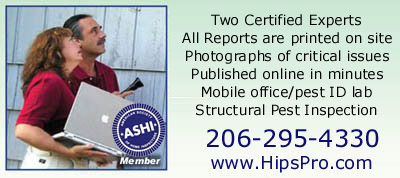 Home Inspections of Puget Sound
206-295-4330
This website is © protected material, all rights reserved.
Any copying our pages or content from our pages, including graphics to another website or into email is illegal
Requests to repost this information must be obtained by contacting us at info@hipspro.com

WITHOUT WRITTEN PERMISSION, MAKING ELECTRONIC COPIES OF THIS WEBSITE CONTENTS IS PROHIBITED BY COPYRIGHT LAWS