We find holes in drywall everyday, and to call a professional to repair them can be expensive. So I thought I would share some tips for those that are inclined to do it yourself
To fix holes in drywall like those caused by a doorknob, you will need these materials:
a piece of drywall, backer boards (1x2 or plywood strips), drywall mud (called mud for this article) tape, screws, primer and paint to finish the job.
Tools include, dust mask, pencil, flashlight, measuring tape, utility knife, drywall saw, screw gun, putty knife, painting tools and a drop cloth.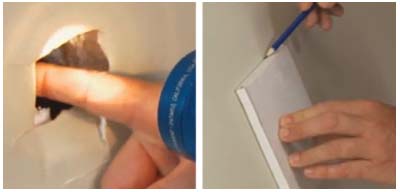 Always wear a mask when working with drywall.

Start with a flashlight and carefully look inside the hole for any wires or plumbing in the way. If you see any, note its location so you can avoid damaging them when you cut out the damaged area.
Measure the hole and cut a piece of drywall a little larger than the damaged area to be patched.
Hold the patch over the hole and trace around it with a pencil.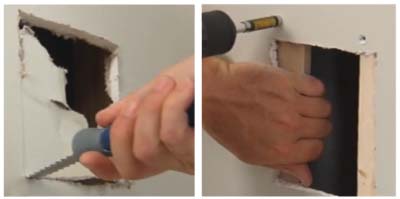 Cut along the lines you traced with a drywall saw, be careful to avoid any wires or plumbing!
Cut some backer boards, (1x2 or plywood strips should work fine) that are 4 inches longer then the hole. This will allow you to put screws into the ends to secure them. Be sure to 'dimple' all screws below the face of the sheetrock otherwise they will be in the way when you finish the drywall with mud.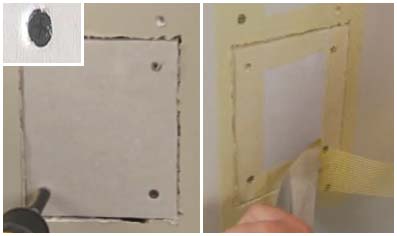 Place the patch you traced in the hole and secure it with drywall screws.
Cover all the seams with drywall tape, in this example we are using a fiberglass mesh. Alternately you can use paper fire tape that you embed with drywall mud.
Coat the nails and tape with mud, smooth it out and let it thoroughly dry (usually a day). Using a clean putty knife, scrape off all the high spots, and very gently sand the surface. Use care do not to ever rough up the paper facing on the drywall.
Put on a 2nd coat of mud, and feather the edges out a few inches wider than the first coat. Allow to dry and again scrape and sand as needed. A third coat may be used if the surface is not smooth enough.
Add texture if needed (there is a aerosol texture you use) prime and paint.
Some tips to help you with drywall mud:
1) Mud will spread much easier if you mix it first. Put a small amount in a mud pan, and mix it well with a putty knife. You can add a very small amount of water when mixing, and it will help too.
2) It is easier to use 'lightweight mud", it spreads easier then regular mud.
3) Always work from a mud pan in small batches, never from your bucket of mud. If you do, you will almost always contaminate the mud in the bucket and get chunks of debris make finishing smoothly nearly impossible.
4) Using a spray bottle of water, you can very lightly mist the patch and this will give you more time to work the surface smooth
5) If you use a wide knife instead of a narrow one, you will have fewer passes to cover the patch, making it easier to finish.
If you want professional help with your home repair projects give us a call, we are happy to make referrals to some great contractors.